If you have ever hustled kids from one activity to another after school only to stop at a fast-food restaurant in between sports practices to make sure your kids get dinner, you know that family time management is crucial.
Managing your family's time and ensuring everything gets done during the day is challenging. Sometimes, there aren't even enough hours in the day, but it does not have to be impossible. 
This guide for parents puts together seven foolproof tips to help you and your families manage school, activities, meals, and family time easier. 
But first of all…
How Do You Handle a Busy Family?
Handling a busy family can be challenging for any parent. With many after-school activities, homework, dinner, chores, and much more, there is much to ensure you have noted on the schedule. 
The following tips will help you to get the most out of your time as a family by setting up a perfectly organized plan and a schedule. Here you go: 
Setting yourself and your family up for success at mealtime.
Mealtime can be one of the biggest sources of conflict for families with children.
Nothing is worse than 5 o'clock rolling around and realizing that you have no idea what to make for dinner or that the fridge is empty.
Constant trips to the grocery store and takeout food are expensive and take away from time you could spend as a family.
Creating a menu for each week and then meal planning is one of the best ways to make dinner time easy and fun.
You, your husband, and the kids should sit down and talk about what they want for dinner for the previous week.
Involving the kids in this decision will ensure that they enjoy dinner too. Once you have a menu, create a shopping list and put the menu in the kitchen where everyone can see it for the week.
Once you've created your list and gone shopping, it's time to meal prep.
Meal prepping can be done in many different ways, and it's up to you to decide what works best for you. Some families cook all their meals on Sunday before the busy week starts and pre-portion them so that all you have to do at dinner time is reheat them.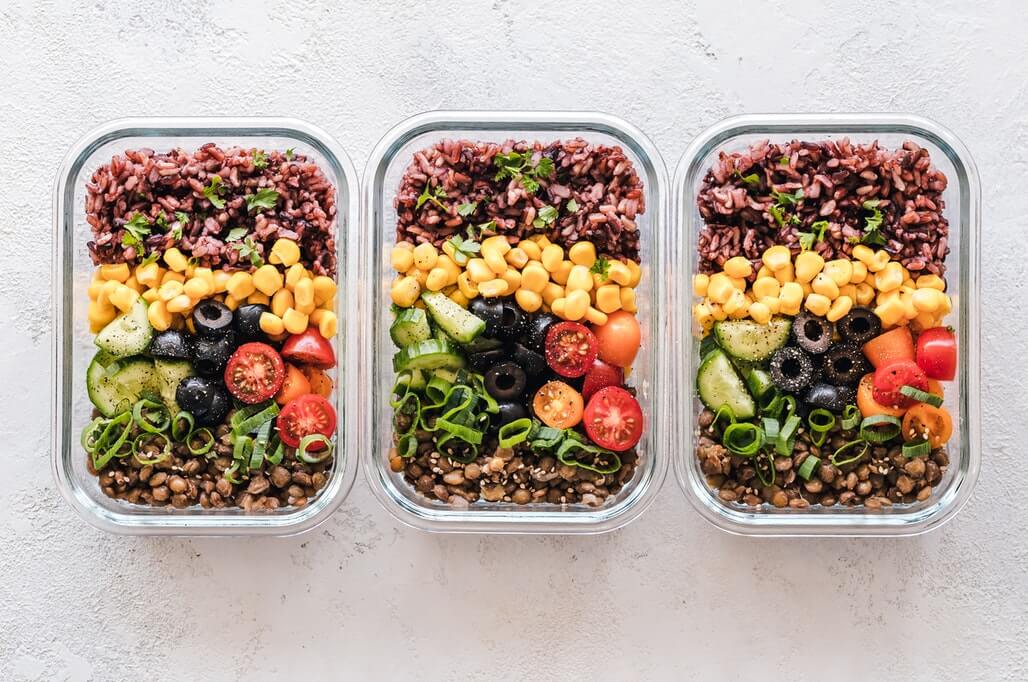 If that sounds like too much prep for you, another option is to prep all the ingredients for each meal.
Cut the veggies, cook the rice, marinate the meat, and have all your ingredients labeled in the fridge so that you can pull out everything and get cooking after school.
Whatever way works for you is the best way for your family. The most important thing is that you feel you are set up for success to feed everyone for the week without the chaos.
Accessing How Much Time You Have and Where You Lack it
Before you start making a family schedule, you need to figure out where things are currently going wrong with the current one.
Are you taking your kids to after-school activities that start simultaneously on opposite ends of town?

Is your husband stuck with all the household chores because you are trying to put the kids to bed?

Does your family feel like they never see each other or never know what's gone on in each other's day?
These are all important questions to answer.
Before you get into the nitty-gritty of making your entire family schedule, list what is working and what's not about how you currently manage everyone's time.
Prioritizing Activities
Prioritizing activities is something that the whole family should be involved in.
Sit down with everyone and make a list for each person in your house. Kids, husbands, moms, everyone should have their list.
Have everyone list out what activities they enjoy the most.
Maybe your kids need to focus on their homework, you love gardening in the afternoons, and your husband has to mow your lawn twice a week.
Have everyone list 1-3 activities that are the most important to them.
This activity will help you prioritize what needs to come first when you sit down to make your schedule.
Making a Schedule
Once you have prioritized activities, the next step in time management is to make a schedule that works for all family members.
Make sure to account for every family member's schedule. Write down every activity you participate in or chores you need to do.
Including the prioritized activities from the previous tip is also very important. That way, if there is an overlapping schedule or you need to cut out activities to make everyone's schedule work, you know what you can cut and what is essential.
Once you have made your schedule, go over it with your kids, so everyone knows what is going on and when they should be doing certain tasks.
One tip from my experience would be to print out a paper calendar and put it in a place where everyone can see it.
For example, a fridge. If your kids are old enough, you can also give them a copy of the schedule. 
Note: Please take a picture of the schedule and save it to your phone. You need to do this!
Set Limits on Screen Time
One of the biggest ways a schedule can fall apart is if your family is absorbed into a screen when things around the house are supposed to be happening.
While a tv show or movie at the end of the day might be a great way to help your kids wind down for the night, too much screen time can leave young children overstimulated.
Setting limits on how much screen time your kids are allowed daily, with different limits for weekends and weekdays, will help with family time management.
There are plenty of activities you could be doing instead of looking at a screen.
Spending time together or learning something new indoors also benefits you and your kids! 
Talk to your kids about the screen time limits and make sure they know when they are allowed to be on a screen. If your kids know when screen time is allowed, it will hopefully be easier to transition to other activities when the time comes.
Make it Fun for the Kids.
If you tell your kids that you will work on family time management, they probably aren't going to be leaping up to help you. But if you find ways to make it fun and include them, they will be more willing to stick to the plan and help you keep the day moving.
Involving them in decisions is a great way to make it fun. 
Have them decide what days of family game night and what day of the week you will have a movie party. Or let them decide if they will do soccer or baseball and if they want to go to the park or have a play date. 
Involving them in decisions and giving them options will help them feel like they are a part of the time management and give them a sense of responsibility.
Splitting up Chores
How to get the whole family involved in household tasks?
Getting every family member involved in chores can make the week go smoothly. A chore board is a great way to ensure everything is done on time.
One family member can't manage everything alone, but the workload can feel light if you divide the tasks.
The key to success is to delegate family chores efficiently so it feels like it is a part of a routine for everybody.
Even little kids can help pick up toys or put clothes into a drawer, which helps build responsibility from an early age.
Decide who has free time at what hours of the day and then give chores accordingly. If you are making dinner, ensure that someone else is doing the dishes while younger kids help clear the table or help sweep the kitchen. 
Write down all of the household tasks on the chore board. Assign them to different family members and leave a note when they need to be done. 
The results are going to be incredible if you stay consistent. Not only will you create a productive routine, but you will also learn a lot from each other.
How to Create a Recipe for Family Success
Putting all the above time management family tips together will help to be more efficient and the endless stress. Time management is a fundamental personal development skill that everyone should learn. It is the only thing we will not get more about, so make the most of it. 
Family relationships are important, and having a calendar and a time management plan will help you make time for each other.