Public events are finally back in bloom as the weather improves in most parts of the country and the fear of COVID-19 begins to decline. This is good news for event organizers who have had trouble putting together the kind of work that they need to do to make their living. We are experiencing a sudden boom in demand for these events, and it seems like event organizers have more than enough work to take on. Thus, it is time to focus on time management for event organizers.
Why Is Time Management Important For An Event Organizer?
Event organizers are constantly running around trying to take care of every little thing thrown at them when organizing an event. It is hardly surprising to learn that time management is very important for individuals like this. Time management is more important than ever for people who work in the event organization space because they need to use their time effectively to manage all the new incoming business they are seeing now.
"We all know that money isn't infinite, yet we end up treating our time and energy and attention as if they are" – Shane Parrish
Event organizers need to figure out a plan for how they will manage their time because:
No one wants to hire a disorganized event planner
Prioritization is critical to running a successful event management operation
There are only so many hours in the day to get an event put together
Event managers always have to keep multiple tasks going at the same time
You can get more done with less stress if you apply time management principles
You can roll the dice on doing things as they come at you if you like, but you will likely end up behind the competition if you do so. That is no place to be. It would be best if you took strides to put yourself in a better position than those who might want to steal your business from you. You cannot allow that to happen, and you must stand up for yourself and the organization you run so things don't get out of hand.
How Can Event Organizers Manage Their Time Better?
Time management is ideal for event planners because they always attempt to accomplish many things simultaneously. They were planning how to make that happen is a big deal for them. Event planners have to think of creative ways to save a little time here and there.
Even if the time savings are nothing more than a few minutes, it's worthwhile to do so because you can cut down on those things that take you away from delivering real value to your clients.
7 Time Management Tips Every Event Organizer Should Use
Now is the time to give you the good stuff, the real tips that you can use when working on your event organizing. If you put these tips into practice, you will most likely save a couple of hours per week. It might not seem much at first, but it quickly adds up to a significant amount of time. Just make sure you take the time to review each tip and figure out how it can be used in your case.
1. Reduce Distractions
Being your boss is great, but it doesn't come without some drawbacks. One drawback is that you must be extremely disciplined about managing your time. You can easily fall into the trap of allowing yourself to get distracted by outside sources.
You must stay on task to get everything where it needs to go so your events are planned flawlessly. Your customers will notice if you don't seem to give them your full attention.
2. Create A Goals Board
You know what you need to do for the day, the week, and the year, so why not create a way to visualize that? Humans are very visual creatures, and it is nice to know that you can create something like a goals board to help make sure you never miss an important objective you are trying to accomplish.
In other words, you ought to put up a goals board that makes it easier to see exactly what needs to be done on a given day and what steps you are taking to get it done. This will keep you motivated and moving in the right direction.
3. Use The Pomodoro Technique
The Pomodoro technique refers to using a Pomodoro timer to help keep yourself on task while working through various objectives. A Pomodoro timer is generally set for approximately 25 minutes before going off. When the timer goes off, the user is meant to give themselves a break for about 5 minutes to give their mind a rest. After that, they can return to Pomodoro for another 25-minute session.
Doing it this way allows the user to work with their brain's natural constraints on focus and move through projects with much more ease.
4. Delegate Tasks To Others When Possible
You can and should delegate some of the work you don't have the time to handle yourself to those who can take care of it. You do NOT want to overextend yourself and end up caught in the weeds of small tasks that don't matter all that much. Instead, you should try your best to ensure you take care of the things that will deliver real value for your clients.
5. Consider Using A Kanban Board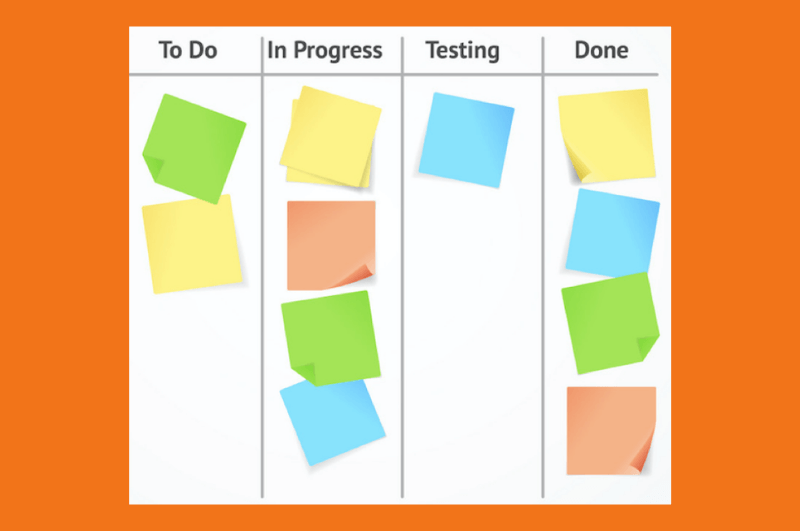 A Kanban board provides a visual representation of your ongoing work that needs to be accomplished. Many people use Kanban boards because they easily see everything they have ongoing at any given time. It allows them to track what is pending, what is in progress, what hasn't been started yet, and what is completed. This may help them shift their priorities to take care of some of the items that have yet to be finished.
6. Avoid Multitasking (Too Much)
There is no getting around the fact that most of us multitask, at least some during the day. However, studies have shown that multitasking doesn't work nearly as well as we think, and it likely hinders our abilities to accomplish what matters.
Failure to recognize this and attempting to multitask is a sure way to squander some of your productive capacity and make it more challenging to accomplish what you want with time management. There is no room for waste in a competitive environment like this, and you should avoid doing so when possible.
7. Practice Patience With Yourself
Finally, we want to mention that you should practice patience with yourself. Understand that you will not get everything perfect on the first attempt, and you will sometimes be less than your optimal productive self. You need to accept this is the case and give yourself grace about it when possible.
You can always give it another attempt tomorrow, but you need to get used to the idea that none of us are perfect. What matters is that we are moving towards a common goal and purpose.
Bonus Tip: Outsource Aspects Of Your Work
Most companies (and individuals) outsource their event management to event managers. What is stopping you from taking that a step further and outsourcing some of the work you need to do to someone outside yourself?
You can pay someone else for tasks you don't have the time to handle. It is easier than ever to do just that, and you don't have to pay nearly the rates you are charging to get it done.